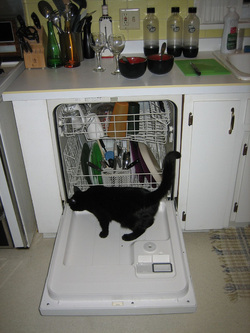 There are a few main problems that can cause your dishwasher to stop draining. If the dishwasher can't get the water out, it won't let new water in and won't finish the cycle.
When you stare in the dishwasher and see water left at the bottom you know it isn't draining. If you listen very carefully when it should be draining, you may hear a faint humming sound. That means something is keeping your drain impeller from spinning.
The first thing to check is that little "R2D2" looking thing near your kitchen sink faucet. It may have a little fish bone or some gunk clogging it up and preventing the water from leaving your dishwasher.
To correct the problem just pull straight up on the silver or white round cap that covers the Air Gap. Next you can either untwist the top by turning counter clockwise or you may need to pinch in on the side of the top and then wiggle it off.
Once the top is off you see a small vertical tube. You can push a stiff wire or long screwdriver down about 6 inches in to make sure it's clear.
Now you put the top back on and see if it will drain.
If it still wont drain, you may want to disconnect the large black rubber pipe that connects to your garbage disposer and let it hang down into a bucket while having your dishwasher go to drain. Most dishwasher will go to drain when you hold down the cancel button or press it twice in a row.
If your machine will now drain, then you know that there is something blocking the water at the point where it connects with the garbage disposer. Sometimes people forget to knock out a small piece of plastic that comes with the disposer on new installations. You can put a screw driver into the hole and knock it with a hammer to pop out the plastic plug. Then you just reinstall the rubber hose and its good to go and draining.
If you still have a machine that's not draining you can remove the gray or white drain hose from the air gap and clean the outside of the end. Next you can blow through it and try to knock out what might be blocking the drain tube.
Please let us know how this works for you at:
scottthefixitguy@yahoo.com